Hello there Pittsburgh, it's Arts Fest Time! Come join us at Three Rivers Arts Festival where we will be showing in the wonderful Artists Market for the 1st Gateway Session! Find us at Booth #74 on Gateway Plaza – but note that we'll ONLY be in the Artists Market from Friday June 6th – Tuesday night June 11th (and then a whole new set of artists will be in the Market for the next week) each day from 12 noon – 8pm. Handy Market Map below!
Along with a huge lineup of music (click here) and art events, and gallery openings the Artists Market features over 350 nationally recognized artists and craftspeople throughout the 3 Rivers Arts Fest, a real Pittsburgh tradition. We'll be there for 5 days only in the 1st Session on Gateway Center at Booth #74 from Friday June 7th – Tuesday night June 11th with a fresh crop of new Art Prints including some smaller versions of our Pittsburgh Bridge Prints, and Rock Posters and many more new goodies like Tea Towels and Enamel Pins too.
For a full list of Artists Participating in the Market click here.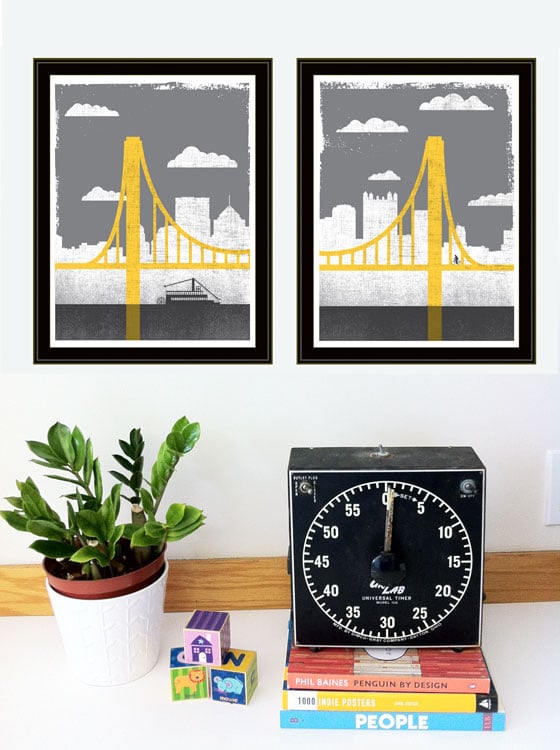 The Details:
WHAT: The Pittsburgh Three Rivers Arts Festival, now in it's 60th year!
DATES: June 7 – 16, 2019
ARTIST MARKET HOURS: 12-8pm each day.
LOCATION: Downtown Pittsburgh, PA in and around Gateway Center & Point State Park primarily, but events are happening all over Downtown. Click here for the full Event Schedule..
ARTIST EXHIBITORS: Over 350 fine art and contemporary craft artists come from around the country to show in the Artists Market, representing the highest quality work including painting, photography, mixed media, printmaking, garden sculpture, ceramics, glass, wood, furniture, metal, jewelry, wearables and so much more. The Artists Market has multiple sections and changes many times throughout the Festival so do check out the Artists List here with dates and Booth locations.